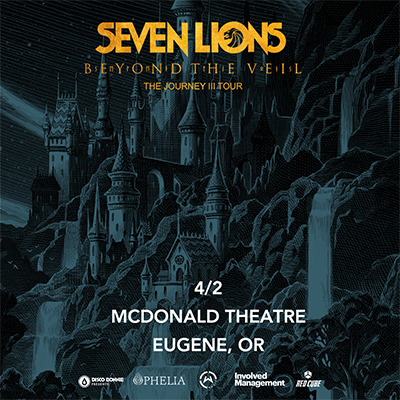 Produced by: Disco Donnie & Red Cube
Date: Sunday, April 2, 2023
Event type: General Admission, All Ages
Doors open at: 7 p.m.
Show starts at: 7 p.m.
Tickets: All ages advance tickets are general admission and available Friday, December 9, 2023 within an early bird tiered ticketing configuration ranging from $34.50 to $39.50 as earlier price levels sell out online at TicketsWest.
Ultimate Seven Lions Early Entry VIP Package features One general admission ticket with early entry; One exclusive VIP t-shirt and specialty item handpicked by Seven Lions; One commemorative VIP laminate; Early entry into the building; Early tour merchandise shopping opportunity; Photo opportunity in front of the VIP backdrop to celebrate your evening*; Dedicated VIP entrance; On site VIP host and concierge available Friday, December 9 at 10am for $204.50 online at TicketsWest.
*No artist participation in the photo.
Unless sold out, tickets will also be available at the McDonald Theatre Box Office on the day of the show beginning at 5:30 p.m. when the Box Office opens.
The general admission concert is open to everyone of all ages.
All tickets subject to service charges and /or user fees.
Known as Seven Lions, his professional stage name, Jeff Montalvo was born March 31st, 1987 in Santa Barbara, California. He is an American musician, DJ, and music producer, making a large name for himself in the Electronic Dance Music Industry. His alias 'Seven Lions' originates from Latro in the Mist, a fantasy novel written by Gene Wolfe, in which a character in the book was named Seven Lions. Jeff Montalvo found an interest in music production by the age of 7 when his father came home with a Macintosh and keyboard. He was raised as a metal and punk-inclined drummer, but he eventually segued into electronic music production. Montalvo had explained, "For me, it was the most accessible thing, to start picking up something like drums as opposed to something like electronic music. My transition out of playing with a band was because I got tired of waiting for my band all the time – I wanted to just start making music so I started composing electronic music by myself." He took the initiative, and after a friend gave him the program Fruity Loops, he was set to become a producer. Montalvo stated that he is a metal and fantasy fan, and inspired by Viking metal as well as his favorite band Opeth.