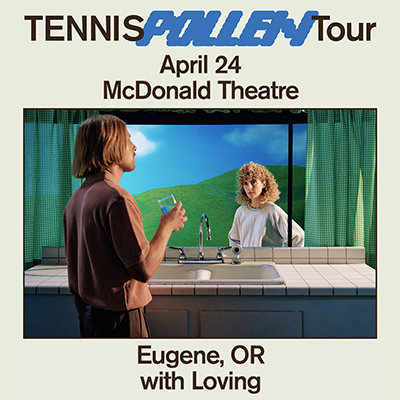 Produced by: Kesey Enterprises
Date: Monday, April 24, 2023
Support: Loving
Event type: All Ages General Admission on the Floor, 21+ Ages Reserved Seating within the Lower Balcony, 21+ Ages General Admission within the Upper Balcony
Doors open at: 7 p.m.
Show starts at: 8 p.m.
Tickets: Advance tickets are all ages general admission on the floor for $25, 21+ ages reserved seating in the lower balcony for $35 and available now online at Cascade Ticketing.
Unless sold out, tickets will also be available at the McDonald Theatre Box Office on the day of the show beginning at 5:30 p.m. when the Box Office opens.
The concert is open to everyone of all ages on the Floor, 21+ Ages in the Balcony
All tickets subject to service charges and /or user fees.
Tennis is Alaina Moore and Patrick Riley. The two met in the philosophy department at the University of Colorado in 2008 after dropping out of their respective music programs. In the years after graduating, they got involved in Denver's DIY music scene. Through house shows, they were connected with Underwater Peoples, and Firetalk. Tennis' first singles "South Carolina," "Baltimore," and "Marathon" were released in 2010. The band went blog-viral nearly overnight, landing them a record deal with Fat
Possum.
Cape Dory, (2011 on Fat Possum), documents Moore and Riley's time spent living aboard a small sailboat on the Atlantic coast. The album debuted at #1 on Billboard's Heatseeker chart, transitioning Tennis from house-shows to stages such as Lollapalooza. Tennis recorded their sophomore effort Young & Old (2012) with Patrick Carney of the Black Keys. They made their television debut on The Tonight Show, The Late Show, and Conan.