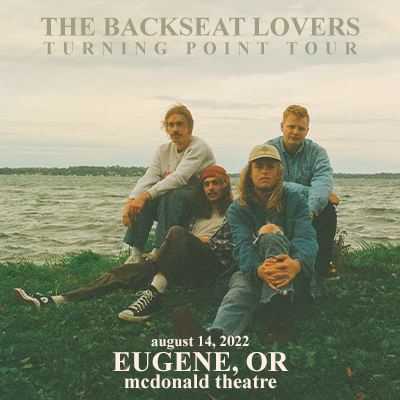 Produced by: WOW Hall & Kesey Enterprises
Notes: Moved from WOW Hall to McDonald Theatre
Date: Sunday, August 14, 2022
Support: TBD
Event type: General Admission, All Ages
Doors open at: 7 p.m.
Show starts at: 8 p.m.
Tickets: All ages advance tickets are general admission and available now for $30 online at TicketsWest.
Unless sold out, tickets will also be available at the McDonald Theatre Box Office on the day of the show for $35 beginning at 5:30 p.m. when the Box Office opens.
The general admission concert is open to everyone of all ages.
All tickets subject to service charges and /or user fees.
The Backseat Lovers formed when lead vocalist Joshua Harmon, having heard of local drummer Juice Welch, introduced himself and asked if he wanted to start a band. They immediately started working on arrangements for some of Josh's songs. Later Josh met lead guitarist and vocalist Jonas Swanson while waiting in line for an open mic at the Velour in Provo city. Neither of them got on the list to play that night, so they sat on a park bench outside the venue and played their songs to each other until they ran out of stuff to play. Josh invited Jonas to come down and play with he and Juice. It was that night that Out of Tune, a song Josh had been holding onto since he was 16, came to life when they arranged it as a group. 
 In spring of 2018 the band began recording together. They released their self produced EP Elevator Days on June 3, 2018 and played their first show a few short weeks after. 
They released their first full length LP, When We Were Friends on January 27th, 2019 which features the single "Kilby Girl" with over 82 million streams globally. The band released their newest song "Heavy" in July of 2020. The group is currently writing new material that they say is a product of the co-writing chemistry that has grown between Jonas & Joshua since the band started.