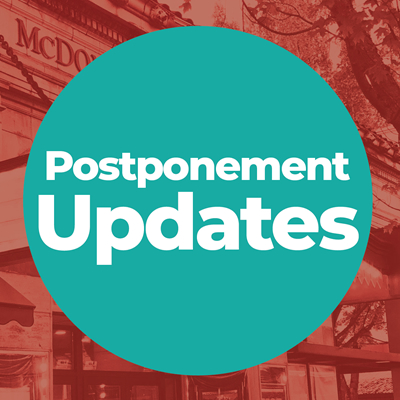 The spring/summer concert season has been dramatically altered by the unprecedented COVID-19 situation. In accordance with the State of Oregon's recent guidelines on large gatherings, no concerts will take place at The McDonald Theatre through at least September 2020.
Details for specific shows will be available here on our website as promoters and agents officially cancel or postpone shows. Please know that we are working with promoters and agents to make official announcements as soon as possible. Thank you for your patience and understanding in this regard.
For rescheduled shows:
For postponed shows, your purchased tickets will be honored on the rescheduled date.
For canceled shows:
If you purchased your ticket via TicketsWest, your refund will be automatically issued back to the payment type you originally used for purchase. This usually takes about one week from the cancelation announcement. If you purchased your ticket via an outlet, you will need to return the ticket to the point of purchase to receive your refund. If you purchased from our Theatre box office, please contact us directly to issue your refund. Contact information is listed below.
McDonald Theatre shows that have officially been postponed, rescheduled or canceled due to COVID-19:
March 15: Grace Potter – Postponed
March 21: Whiskey Meyers – Rescheduled for Nov. 7, 2020
April 3: Amy Grant – Rescheduled for March 9, 2021
April 17: High Step Society – Postponed
April 18: Gary Gulman – Postponed to 2021
April 22: Tech N9ne – Rescheduled to May 5, 2021
May 1: TroyBoi – Postponed
May 9: Nate Bargatze (early and late) – Rescheduled for Nov. 15, 2020
May 12: Adam Ant – Canceled
May 21: Tegan & Sara  – Postponed
May 22: Koe Wetzel – Rescheduled for Nov. 11, 2020
May 29: NLE Choppa – Rescheduled for Oct. 10, 2020
May 30: Piff the Magic Dragon – Rescheduled for March 27, 2021
June 5: Purity Ring – Canceled
July 26: Wolfmother –Canceled
Oct 10: NLE Choppa –Canceled
QUESTIONS: Please contact TicketsWest by phone at 1-800-992-TIXX(8499) or email customercare@ticketswest.com with questions regarding tickets purchased via TicketsWest. For general questions, please contact McDonald Theatre directly by calling us at: 541-345-4442. We are happy to help.
Thank you for your continued support and for your patience and understanding as we navigate the unexpected challenges presented to our industry at this time. We appreciate you.