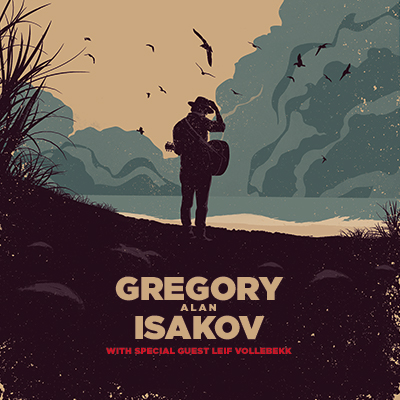 Produced by: Kesey Enterprises
Date: Wednesday, December 1, 2021
Support: Leif Vollebekk
Event type: General Admission, 12+ Ages
Doors open at: 7 p.m.
Show starts at: 8 p.m.
Tickets: 12+ ages advance tickets are general admission and available now for $31 online at TicketsWest.
Unless sold out, tickets will also be available at the McDonald Theatre Box Office on the day of the show for $36 beginning at 5:30 p.m when the Box Office opens.
Please note that $1 from every ticket will go to The Land Institute.  The Land Institute is a non-profit whose vision is to develop an agricultural system that can produce ample food, reduce or eliminate impacts from the disruptions and dependencies of industrial agriculture, and inform cultural change through education.
The general admission concert is open to everyone 12 years of age and older. All tickets subject to service charges and /or user fees.
Gregory Alan Isakov Touring COVID Policies
* All attendees must be fully vaccinated. Proof of full COVID-19 vaccination at the time of entry will be required. (Negative tests are not an acceptable form of entry.)
* Masks are required for entry, and must be worn at all times, except when eating or drinking. (Gaiters and bandanas are not an acceptable form of mask.)
* All staff who are present in the building day of show will be fully vaccinated.
Born in Johannesburg, South Africa, and now calling Colorado home, horticulturist-turned-musician Gregory Alan Isakov has cast an impressive presence on the indie-rock and folk worlds with his five full-length studio albums: That Sea, The Gambler; This Empty Northern Hemisphere; The Weatherman; Gregory Alan Isakov with the Colorado Symphony; and Evening Machines (nominated for a Grammy award for Best Folk Album).
Isakov tours internationally with his band, and has performed with several national symphony orchestras across the United States. In addition to owning his independent record label, Suitcase Town Music, he also manages a small farm in Boulder County, which provides produce to the farm's CSA members and to local restaurants.