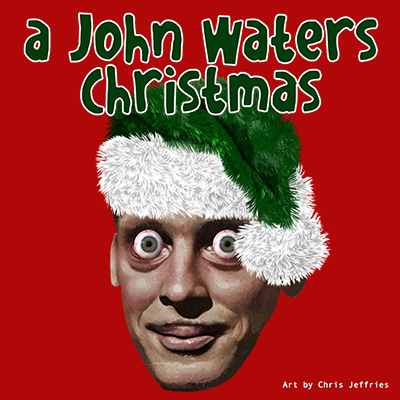 Produced by: Kesey Enterprises, T Presents
Date: Friday, December 2, 2022
Event type: Reserved Seating, All Ages
Doors open at: 7 p.m.
Show starts at: 8 p.m.
Tickets: All ages advance tickets are reserved seating and available Friday, April 1 at 10am for from $30 to $60 depending on seat location online at TicketsWest.
Group Therapy VIP features post show Q&A with John Waters, autographed show poster, ability to take a selfie from a distance w/John on stage for $125 available Friday, April 1 at 10am online at TicketsWest.
Unless sold out, tickets will also be available at the McDonald Theatre Box Office on the day of the show for the same amounts listed above beginning at 5:30 p.m. when the Box Office opens.
Parental Advisory: Some show content may not be appropriate for minors.
The reserved seating spoken word concert is open to everyone of all ages. 
All tickets subject to service charges and/or user fees.
Yep, he's back, with Christmas lunacy throbbing in his veins. Cockeyed. Rabid. Ready to reinfect the lunatic fringe with holiday jeer. "The Pope of Trash", as William Burrough once called him, is coming to your fair city on his annual festive home-invasion to slide down your chimney of burning giftwrapped needs, igniting your lust for presents and sparking the sexual desires of the newly
perverted. It'll be a combustion of Christmasly-incorrect kindling that will blaze into a glorious nut-case Noel fire from hell. Go ahead! Knock over that tree! Stomp your presents! Manger Danger! A raging new critical theory that no PTA can ever stop. Scream! Scream again! It's a John Waters Christmas for Chrissake!