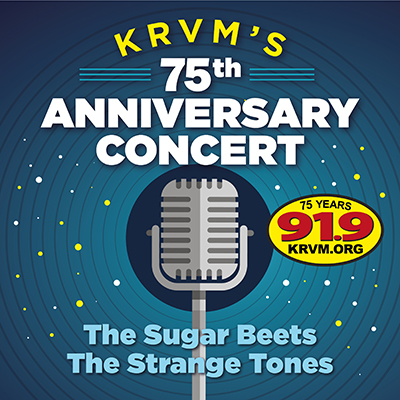 Produced by: KRVM
Featuring: The Sugar Beets, The Strange Tones
Date: Saturday, December 3, 2022
Event type: General Admission, All Ages
Doors open at: 6 p.m.
Show starts at: 7 p.m.
Tickets: Advance tickets are general admission and available now for FREE online at TicketsWest.
Unless sold out, tickets will also be available at the McDonald Theatre Box Office on the day of the show for FREE beginning at 5:30 p.m. when the Box Office opens. Please note that a ticket is required for entrance.
The concert is open to everyone of all ages.
All tickets subject to service charges and /or user fees.
KRVM is a listener-supported public radio station licensed to Eugene School District 4J. From our very beginnings, KRVM has worked to enrich the quality of life — and enhance the variety of music — in our community. For area students, KRVM serves as a radio classroom-of-the-air, offering the opportunity to learn and practice first-hand the skills required to successfully produce, write, voice, and engineer radio programming.
In addition, KRVM provides a wide variety of musical and informational programming — round-the-clock and daily — to a loyal audience throughout western Oregon. (The "RVM" in our call letters stands for "Real Variety in Music.") Our instructional and broadcast operations depend on financial support from listener members and area businesses who understand the importance of public radio to a varied and vital community.