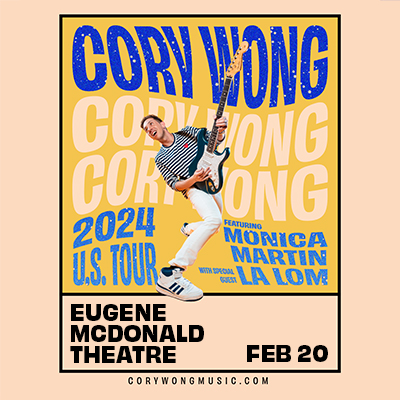 Produced by: Kesey Enterprises
Date: Tuesday, February 20, 2024
Support: Monica Martin and LA LOM
Event type: All Ages General Admission on the Floor, 21+ Ages Reserved Seating within the Lower Balcony, 21+ Ages General Admission within the Upper Balcony
Doors open at: 6:30 p.m.
Show starts at: 7 p.m.
Tickets: Advance tickets are all ages general admission on the floor for $32, 21+ ages reserved seating in the lower balcony for $47 and available Friday, August 25 at 10am online at Cascade Ticketing.
Unless sold out, tickets will also be available at the McDonald Theatre Box Office on the day of the show beginning at 5:30 p.m. for $32 general admission on the floor when the Box Office opens.
The concert is open to everyone of all ages on the Floor, 21+ Ages in the Balcony
Music motivates at the most primal level.
You instinctually hum a tune in order to get pumped up in the morning, for fuel on the treadmill, to soundtrack your commute, or as the pre-game to a big night out. As much as he treasures his roles as a guitarist, composer, and producer, Cory Wong fashions himself "a hype man," first and foremost. Living up to this classification, he slings a Stratocaster and hurls "dad jokes" from the stage with the same panache, poise, and power.
"For me, it's all about the listener's experience," he explains. "I want them to have a visceral response like: 'I feel better,' 'That was really fun,' or 'I got to escape for an hour.' You'll hear my voice through the guitar, but I'm just a hype man. To uplift audiences with instrumental music that has no singing or lyrics is a fun challenge. I'm trying to solve the riddle. If I can get one person to feel good this way, it's a success.