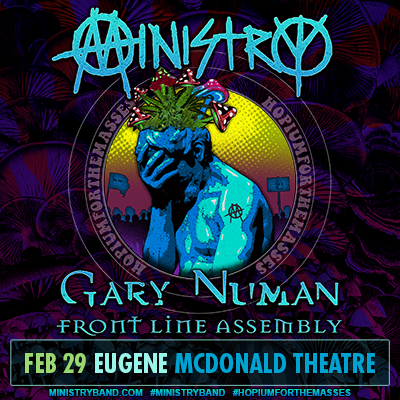 Produced by: Kesey Enterprises & Mammoth NW
Date: Thursday, February 29, 2024
Support: Front Line Assembly
Event type: All Ages General Admission Floor; 21+ Ages Reserved Balcony
Doors open at: 6 p.m.
Show starts at: 7 p.m.
Tickets: advance tickets are All Ages General Admission Floor for $45 and 21+ Ages Reserved Seated Balcony for $60 and available Friday, October 6 at 10am online at Cascade Tickets.
Unless sold out, tickets will also be available at the McDonald Theatre Box Office on the day of the show beginning at 5:30 p.m. when the Box Office opens.
The concert is open to everyone of all ages on the floor, and  21+ ages and older in the balcony
All tickets subject to service charges and /or user fees.
Born in 1981 in Chicago, Ministry has been the lifetime passion project of founder Al Jourgensen, considered to be the pioneer of industrial music. In its early days, Ministry was identifiable by its heavy synth-pop material in line with the new sounds and technology that were being developed in the '80s. Ministry's output began with four 12" singles on Wax Trax! Records in 1981 before the first LP With Sympathy in 1983 via Arista Records. As time progressed however, so did Ministry, quickly developing a harsher, and more stylized sound that the band soon became infamous for on seminal albums Twitch (1986), The Land of Rape and Honey (1988), and The Mind Is A Terrible Thing To Taste (1989). With the release of Psalm 69: The Way to Succeed and The Way to Suck Eggs (1992), Ministry hit an all-time high in the mainstream musical realm and received its first Grammy nomination. In total, Ministry has been nominated for a Grammy award six times. Eight more albums would follow before an indefinite break in 2013, only to be unearthed again in 2018 with AmeriKKKant and Moral Hygiene in 2021. Ministry continues touring and recording with the brand-new forthcoming 16th studio album HOPIUMFORTHEMASSES out March 1, 2024.
One of the founding fathers of synth pop, Gary Numan has influenced countless artists with his constantly evolving form of dystopian electronic rock music since the late 1970s. Establishing a lonely, android-like persona, he rose to fame leading Tubeway Army, a pioneering new wave band whose second album, 1979's Replicas, became the first of Numan's three consecutive gold-selling, chart-topping full-lengths in the U.K. The same year's The Pleasure Principle, his first solo effort, included the perennial favorite "Cars," which remains his biggest worldwide hit. He continued refining his sound, incorporating elements of jazz and funk into more sophisticated efforts like 1982's I, Assassin, and remained a consistent presence in the U.K. charts throughout the following decades.