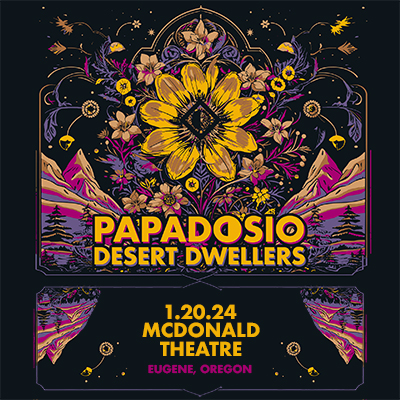 Produced by: Kesey Enterprises + Mammoth NW
Date: Saturday, January 20, 2024
Support: TBA
Event type: All Ages General Admission
Doors open at: 7 p.m.
Show starts at: 8 p.m.
Tickets: All Ages General Admission Free Roaming are available Friday, November 11 at 10am within an early bird tiered ticketing configuration ranging from $25 to $30 as earlier price levels sell out online at Cascade Tickets.
Unless sold out, tickets will also be available at the McDonald Theatre Box Office on the day of the show at 5:30 p.m. when the Box Office opens for $35.
The concert is open to everyone of all ages
All tickets subject to service charges and /or user fees.
Deftly navigating the confluence of prog rock, livetronica, jazz, & jam, Papadosio's appeal as a crossover act has amassed a rabid fan base across north America. Thanks to a steady stream of innovative albums, they've seen a decade and a half of consistent touring with hundreds of live recordings at the fingertips of every follower. Their allure's led to co-presenting massive events such as resonance, secret dreams, summer seequence, and subterranea festival, plus headline plays at the legendary red rocks amphitheater.
From their humble Midwest origins, Papadosio's grassroots operation has grown to overflowing clubs and theaters nationwide, cementing their reputation as a must-see act. Now based in Asheville, NC, the dynamic five-piece features rhythm expert Mike Healy on drums, low end luminary Rob Mcconnell on bass, multi-instrumentalist brothers SAM & BILLY BROUSE on keyboard/vocals, and sage producer Anthony Thogmartin on guitar/vocals.
Desert Dwellers is a globally-recognized electronic music project hailing from the deserts of New Mexico and California. Comprised of Amani Friend and Treavor Moontribe, the duo has been creating and performing music together for over 20 years. Inspired by the vast and rugged beauty of the desert landscapes, they have crafted a unique sound that has captivated audiences around the world and has garnered them a devoted following of listeners who appreciate their sonic oasis for the mind and body.
In addition to their music, Desert Dwellers are known for their uplifting live performances, often incorporating world-class dance performances into their sets. Their passion for sharing their music and creating a space for connection and community has made them a beloved presence in the global electronic music scene.
With multiple albums and EPs in their vast catalog, Desert Dwellers continue to push the boundaries of their genre, always exploring new sounds and styles to keep their music fresh and exciting. Whether performing live or in the studio, Desert Dwellers are dedicated to creating a unique and unforgettable sonic experience for their fans.