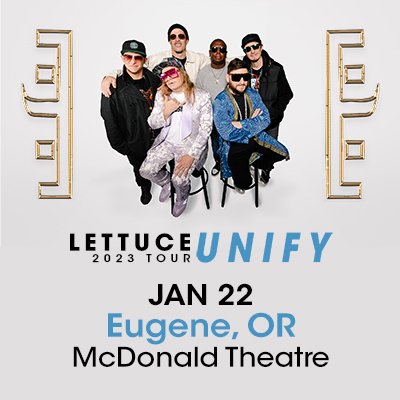 Produced by: Kesey Enterprises
Date: Sunday, January 22, 2023
Support: An evening with
Event type: All Ages, General Admission
Doors open at: 7 p.m.
Show starts at: 8 p.m.
Tickets: Advance tickets are general admission and available Friday, October 21 at 10am for $30 online at TicketsWest.
Unless sold out, tickets will also be available at the McDonald Theatre Box Office on the day of the show for $35 beginning at 5:30 p.m. when the Box Office opens.
The concert is open to everyone of all ages.
All tickets subject to service charges and /or user fees.
Here it is, right on time. Unify. The eighth studio album from Lettuce, it's also a third consecutive record made at Denver's Colorado Sound Studios, completing a loose trilogy starting with 2019's Grammy-nominated Elevate, and continuing with 2020's Resonate. "Dealing with the pandemic, being in separate places, trying to survive without our best friends, without touring, not to mention the political divide in this country," says Lettuce drummer Adam Deitch. "We really needed to unify."
Reunited with Colorado Sound's esteemed engineer, Jesse O'Brien, Unify is a totally collaborative effort full of the highest of highlights, including its centerpiece track "Keep That Funk Alive," inspired by the venerable Parliament-Funkadelic bassist, Bootsy Collins, and featuring Collins on bass and vocals. It's, as well, a benchmark moment for the sextet- Adam Deitch (drums), Ryan Zoidis (saxophone), Adam Smirnoff (guitar), Erick Coomes (bass), Nigel Hall (keyboards/vocals), Eric 'Benny' Bloom (trumpet)- approaching thirty years since its humble Boston beginnings.
"We're just getting tighter and tighter," says Coomes. "Really, these are the first records made with the six of us as a team, and it's the best the band has ever been: live and in the studio; the funkiest and the most fun."