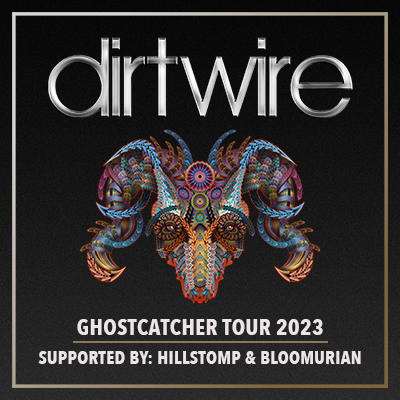 Produced by: Kesey Enterprises & Sessions Presents
Date: Sunday, January 29, 2023
Support: Hillstomp, Bloomurian
Event type: All Ages, General Admission
Doors open at: 7 p.m.
Show starts at: 8 p.m.
Tickets: Advance tickets are all ages general admission and available Friday, November 11 at 10am for $25 online at TicketsWest.
Unless sold out, tickets will also be available at the McDonald Theatre Box Office on the day of the show for $30 beginning at 5:30 p.m. when the Box Office opens.
The general admission concert is open to everyone of all ages
All tickets subject to service charges and /or user fees.
Dirtwire plays an array of instruments both ancient and modern, including West African kamale ngonis, jaw harps, space fiddles, whamola basses, Rickenbacher electric 12 string guitars, bowed Banjos and mouth harps from around the globe, all interwoven into modern laptop beat creation. Hailing from the underground west coast electronic bass music scene Dirtwire finds itself at the forefront of experimental electronic music production mixing in their wide array of world instruments with sampled beats and 808's. Dirtwire's live shows are a communal psychedelic journey, ranging from down home boot stomping get downs, to bass and blues electronic mashups, to ethereal cinematic beat driven soundscapes. Woven into each is the exploration of where live instruments meet computer production, and where tradition meets experimentation.
Junkbox blues duo Hillstomp is infamous for digging through the dumps and forgotten backwoods of American music, recycling traditional elements into a refreshing and distinctive brand of do-it-yourself hill country blues stomp. North Mississippi trance blues, a bit of Appalachia, and a dash of punkabilly come clanging and tumbling from assorted buckets, cans and BBQ lids, all drenched in rambunctious slide guitar. Somehow it works.