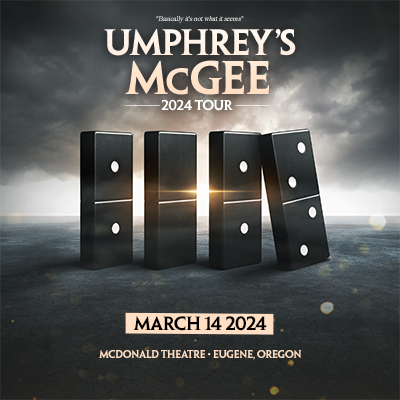 Produced by: Kesey Enterprises
Date: Thursday, March 14, 2024
Support: No support; An evening with
Event type: All Ages General Admission Floor Seats, and 21+ Ages Lower Balcony Reserved Seats
Doors open at: 7 p.m.
Show starts at: 8:30 p.m.
Tickets: Advance tickets are all ages general admission on the floor for $39.50, and 21+ ages reserved seating in the lower balcony for $51.50 and available Friday, October 20 at 10am online at Cascade Ticketing.
Unless sold out, tickets will also be available at the McDonald Theatre Box Office on the day of the show beginning at 5:30 p.m.  when the Box Office opens.
The concert is open to everyone of all ages on the Floor, 21+ Ages in the Lower Balcony
All tickets subject to service charges and /or user fees.
In the twenty-four years since eclectic improv-rock band Umphrey's McGee formed, their sound has been an amalgamation of genres, moods, and tempos, effortlessly flowing from one feeling to the next throughout an album or concert—or sometimes within a singular song. But with time and repetition comes wisdom and maturity, both personally and musically, and in the case of the band's new album Asking For A Friend, Umphrey's McGee entered the recording studio with something to say and a wise, measured way to say it. The end result is an astoundingly cohesive fourteen-song album that feels like a fresh statement from a group of world-class musicians and friends reapproaching their craft with a new lens. But long-time fans will be happy to know that the Umphrey's McGee they know and love is still very much present on Asking For A Friend, just more refined. More focused.