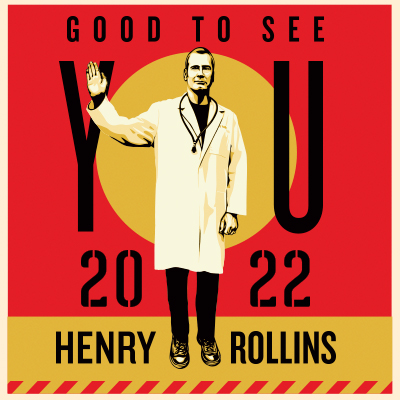 Produced by: Kesey Enterprises
Date: Saturday, May 14, 2022
Event type: General Admission, All Ages
Doors open at: 7 p.m.
Show starts at: 8 p.m.
Tickets: All ages advance tickets are reserved seating and available Thursday, October 7, 2021 at 10am for $22, $28, and $35 depending on seat location online at TicketsWest.
Henry Rollins Meet & Greet Package (located in first 10 rows) features One general admission ticket or premium reserved seat in the first 10 rows; Early entry into the venue; Exclusive meet & greet with Henry Rollins; Personal photograph with Henry Rollins; Access to an intimate post show Q&A; Official meet & greet laminate; autographed by Henry Rollins with Very limited availability available Friday, October 7, 2021 online at TicketsWest.
Unless sold out, tickets will also be available at the McDonald Theatre Box Office on the day of the show for $22, $28, and $35 depending on seat location beginning at 5:30 p.m when the Box Office opens.
The reserved seated spoken word concert is open to everyone of all ages. All tickets subject to service charges and /or user fees.
MCDONALD THEATRE COVID PROTOCOLS FOR PATRONS AND STAFF
All McDonald Theatre patrons, attendees and event staff will be required to show proof of FULL vaccination before entering the venue OR proof of a negative Covid test taken within 48 hours of the time of entry into the venue. Please note that you also must provide a legal ID to match the vaccine card or negative test.
Patrons can provide their actual paper vaccination record or negative test report or present a photograph of their documentation.
This policy is in addition to the current Statewide in-door mask mandate. These policies are subject to change. Any updates to shows will be available on our website, and ticket-holding patrons will be informed of any changes via their email used on TicketsWest.
Thank you for your ongoing support through these trying times.
On the Good To See You 2022 tour Henry will faithfully recount the events of his life in the brief pre-COVID period since the last tour and when things got even stranger over the last several months. It's been an interesting time to say the least and he's got some great stories to tell.
In the '90s, Henry Rollins emerged as a post-punk renaissance man, without the self-conscious trappings that plagued such '80s artists as David Byrne.
Following Black Flag's breakup in 1986, Rollins was been relentlessly busy, recording albums with the Rollins Band, writing books and poetry, performing spoken word tours, writing a magazine column in Details, acting in several movies, and appearing on radio programs and, less frequently, as an MTV VJ.
The Rollins Band's records are uncompromising, intense, cathartic fusions of hard rock, funk, post-punk noise, and jazz experimentalism, with Rollins shouting angry, biting self-examinations and accusations over the grind. On his spoken word albums, he is remarkably more relaxed, showcasing a hilariously self-deprecating sense of humor that is often absent in his music. All the while, he has kept his artistic integrity, becoming a kind of father figure for many alternative bands of the '90s.