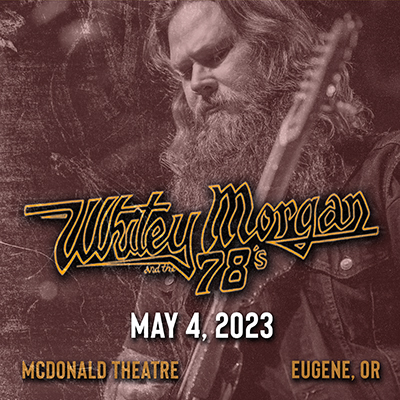 Produced by: Kesey Enterprises
Date: Thursday, May 4, 2023
Support: TBA
Event type: All Ages General Admission on the Floor, 21+ Ages Reserved Seating within the Lower Balcony, 21+ Ages General Admission within the Upper Balcony
Doors open at: 7 p.m.
Show starts at: 8 p.m.
Tickets: All Ages General Admission Floor and 21+ Ages Lower Balcony Reserved Seating are available now for $27 for GA Floor and $42 for 21+ Lower Balcony Reserved online at Cascade Ticketing. A ticket package of four GA tickets is also available for $88 online at Cascade Ticketing.
Unless sold out, tickets will also be available at the McDonald Theatre Box Office on the day of the show at 5:30 p.m. when the Box Office opens.
The concert is open to everyone of all ages on the Floor; 21+ Ages in the Balcony.
All tickets subject to service charges and /or user fees.
Whitey Morgan and the 78's anticipated new album, self-produced by Morgan, was recorded in the Neve Room at famed Sonic Ranch Studios in Tornillo, Texas. Featured on the record are collaborations with acclaimed songwriters Travis Meadows and Ward Davis plus a cover of ZZ Top's "Just Got Paid." Alongside Morgan, the 78's consist of Brett Robinson (pedal steel guitar), Joey Spina (guitar), Alex Lyon (bass) and Eric Savage (drums).
In a career spanning 15 years, Morgan has released five studio albums and a live recording from his hometown of Flint, Michigan. Additionally, he has toured relentlessly averaging over 125 shows annually. Rolling Stone has described him as a "Waylon Jennings acolyte.. modern day outlaw [with a] hard hitting blue-collar brand of music" while NPR Music hailed, "Staying close to the sound and subject matter of classic outlaw artists like Waylon Jennings, Merle Haggard and David Allan Coe, Morgan is poised to lead this hand-worn brand of country to the next generation." His most recent LP, Sonic Ranch (2015), was released to critical acclaim and praised by Detroit Free Press as, "a bold well-crafted album that doesn't forsake the gritty undercurrent running through Morgan's stuff."