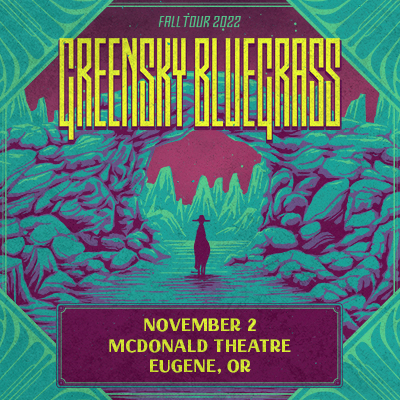 Produced by: Kesey Enterprises
Date: Wednesday, November 2, 2022
Event type: All Ages, General Admission
Doors open at: 7 p.m.
Show starts at: 8 p.m.
Tickets: Advance tickets are general admission and available Friday, July 29 at 10am for $35 online at TicketsWest.
Unless sold out, tickets will also be available at the McDonald Theatre Box Office on the day of the show for $40 beginning at 5:30 p.m. when the Box Office opens.
The concert is open to everyone of all ages.
All tickets subject to service charges and /or user fees.
A string band with a big, expansive sound, Michigan's Greensky Bluegrass rode their regional D.I.Y. roots to national success in the late 2000s after years of hard touring and a succession of finely crafted independent releases. Approaching classic Americana styles with an exploratory, progressive spirit, the group's members claim to have come to bluegrass through the back door, citing rock influences as their gateway into more traditional acoustic styles. Through releases like 2014's bluegrass chart-topping breakout If Sorrows Swim and 2016's Shouted, Written Down & Quoted, Greensky Bluegrass have continued to fuse the energy of rock with the earthy spirit of string music. Following an outpouring of archival live releases, the group returned in early 2022 with the eclectic Stress Dreams.
Known as a consistently hard touring band, Greensky Bluegrass' response to the COVID-19 pandemic and subsequent lockdowns was to record a series of livestreams which they later released as a digital five-volume set called The Leap Year Sessions. The archival outpouring continued throughout 2021 with Courage for the Road, a three-volume project documenting their live tours just prior to the shutdown. The band finally returned to studio work with 2022's cerebral Stress Dreams LP.