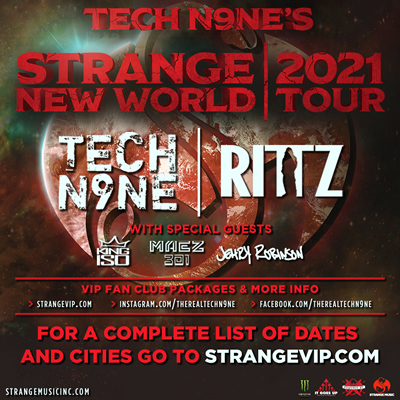 Featuring Tech N9ne with special guests Rittz, King ISO, MAEZ301 and Jehry Robinson, Tech N9ne's STRANGE NEW WORLD Tour 2021 is the most anticipated tour of the year!
Produced by: Kesey Enterprises, Double Tee Concerts
Date: Wednesday, October 13, 2021 (moved from May 2021)
Event type: General Admission, All Ages
Doors open at: 7 p.m.
Show starts at: 8 p.m.
Tickets: All ages advance tickets are general admission and available now for $39.50 online at TicketsWest.
Unless sold out, tickets will also be available at the McDonald Theatre Box Office on the day of the show for $44 beginning at 5:30 p.m when the Box Office opens.
The general admission concert is open to everyone of all ages.
All tickets subject to service charges and /or user fees.
MCDONALD THEATRE COVID PROTOCOLS FOR PATRONS AND STAFF
DUE TO THE SURGING AND HIGHLY TRANSMISSIBLE DELTA VARIANT OF COVID-19 AND FOR THE HEALTH & SAFETY OF OUR PATRONS, ARTISTS, CREW AND VENUE STAFF, THE MCDONALD THEATRE WILL BE IMPLEMENTING THE FOLLOWING POLICY FOR ALL MCDONALD THEATRE EVENTS, UNTIL FURTHER NOTICE:
All McDonald Theatre patrons, attendees and event staff will be required to show proof of FULL vaccination before entering the venue OR proof of a negative Covid test taken within 48 hours of the time of entry into the venue. Please note that all patrons must also provide a legal ID to match the vaccine card or negative test.
Patrons can provide their actual paper vaccination record or negative test report or present a photograph of their documentation.
This policy is in addition to the current Statewide in-door mask mandate. These policies are subject to change. Any updates to shows will be available on our website, and ticket-holding patrons will be informed of any changes via their email used on TicketsWest.
Thank you for your ongoing support through these trying times.
Tech N9ne, real name Aaron Dontez Yates, is widely regarded as one of the most successful independent artists in contemporary rap and hip-hop music with a career spanning more than 20 years.
Early in his career, Tech N9ne was a member of a group called Black Mafia, which was founded by Black Walt in 1990. The group also contained Boss Hoss, Short Nitty and Bakarii.
Tech N9ne was also a member of the group Nnutthowze, along with producer IcyRoc Kraven and MCs Dyno Mack, Agginy and Plaque. The group was signed to Perspective Records in 1993. However, the group disbanded soon after being released from the label. Tech often pays tribute to the group in his lyrics by saying "Six, six, triple eight, forty six, ninety nine, three" (6688846993), which spells out Nnutthowze on the touch pad numbers of a telephone.