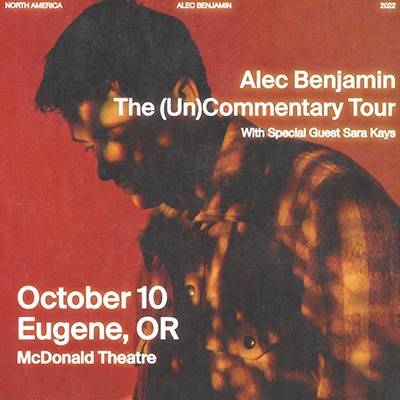 Produced by: Knitting Factory Presents
Tour: The (Un)Commentary Tour
Support: Sara Kays
Date: Monday, October 10, 2022 moved from April 13, 2022
Event type: General Admission, All Ages
Doors open at: 7 p.m.
Show starts at: 8 p.m.
Tickets: All ages advance tickets are general admission and available now for $29.50 online at TicketsWest.
Unless sold out, tickets will also be available at the McDonald Theatre Box Office on the day of the show for $30 beginning at 5:30 p.m. when the Box Office opens.
The general admission concert is open to everyone of all ages.
All tickets subject to service charges and /or user fees.
Alec Benjamin is an American pop singer and songwriter from Arizona who made his international breakthrough in the late 2010s with the multi-platinum single "Let Me Down Slowly." In 2020, he released his first full-length, These Two Windows.
Born and raised in Phoenix, the vocalist/guitarist released his first EP, America, in 2013. He later recorded his self-released debut single, "Paper Crown," in his dorm room at the University of Southern California. Benjamin followed that track in 2016 with a stream of songs, including "The Water Fountain," "End of the Summer," and "I Built a Friend," all featuring his smooth, youthful vocals and keyboard-based arrangements. That same year, a song he co-wrote with Jon Bellion, "New York Soul, Pt. 2," appeared on Bellion's album The Human Condition. The single "Let Me Down Slowly" featuring Alessia Cara arrived in 2018, followed later that year by a full-length mixtape, Narrated for You. Benjamin's performance of the song in January 2019 on The Late Late Show with James Corden further raised his profile, and he released a steady stream of singles in the buildup to his 2020 debut album proper, These Two Windows. A non-album track, "The Way You Felt," arrived in early 2021. Months later, he put his Mandarin skills to good use and released a Chinese-language version of the track, "Ni De Mu Guang."