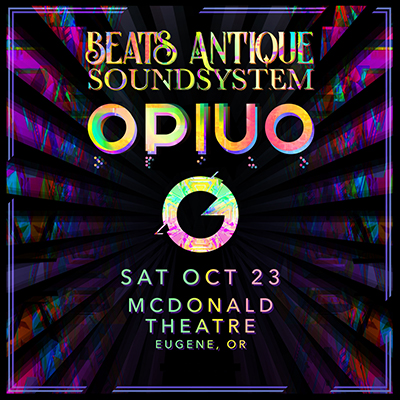 Produced by: Kesey Enterprises, Insight Presents
Date: Saturday, October 23, 2021
Event type: General Admission, All Ages
Doors open at: 7 p.m.
Show starts at: 8 p.m.
Tickets: All ages advance tickets are general admission and available Friday, September 10 at 10am for $30 online at TicketsWest.
Unless sold out, tickets will also be available at the McDonald Theatre Box Office on the day of the show for $35 beginning at 5:30 p.m when the Box Office opens.
The general admission concert is open to everyone of all ages. All tickets subject to service charges and /or user fees.
MCDONALD THEATRE COVID PROTOCOLS FOR PATRONS AND STAFF
DUE TO THE SURGING AND HIGHLY TRANSMISSIBLE DELTA VARIANT OF COVID-19 AND FOR THE HEALTH & SAFETY OF OUR PATRONS, ARTISTS, CREW AND VENUE STAFF, THE MCDONALD THEATRE WILL BE IMPLEMENTING THE FOLLOWING POLICY FOR ALL MCDONALD THEATRE EVENTS, UNTIL FURTHER NOTICE:
All McDonald Theatre patrons, attendees and event staff will be required to show proof of FULL vaccination before entering the venue OR proof of a negative Covid test taken within 48 hours of the time of entry into the venue. Please note that all patrons must also provide a legal ID to match the vaccine card or negative test.
Patrons can provide their actual paper vaccination record or negative test report or present a photograph of their documentation.
This policy is in addition to the current Statewide in-door mask mandate. These policies are subject to change. Any updates to shows will be available on our website, and ticket-holding patrons will be informed of any changes via their email used on TicketsWest.
Thank you for your ongoing support through these trying times.
Beats Antique Soundsystem (no belly dancers)
Beats Antique is a U.S.-based experimental world fusion and electronic music group. Formed in 2007 in conjunction with producer Miles Copeland, the group has become noted for their mix of different genres as well as their live shows, which mix samples and heavy percussives with Tribal Fusion dance and performance art.
Beats Antique Soundsystem features David Satori (guitar, saz, viola, and percussion), and Tommy Cappel (keys, toy piano, drums, and percussion) minus the belly dancers. Their music incorporates Middle Eastern grooves, Balkan wedding music, flamenco, French Gypsy jazz, hip-hop, dub reggae, and other Eastern tonalities, all pulled together into a world electronica beat.
Beats Antique came together to make music for Miles Copeland's Bellydance Superstars extravaganzas. All of the bandmembers have a long history of innovative music-making behind them.
Known for his colorful mix of bass, glitch, and funk, electronic artist and DJ Oscar Davey-Wraight, who performs as Opiuo, began developing his sound just after university, using a loan from his parents to fund his early recording efforts. His debut EP, 2009's Physical Symptoms, quickly earned him some international recognition via San Francisco label Addictech, and before long he was gigging regularly and had followed up with a handful of singles and his debut full-length, 2010's Slurp and Giggle.