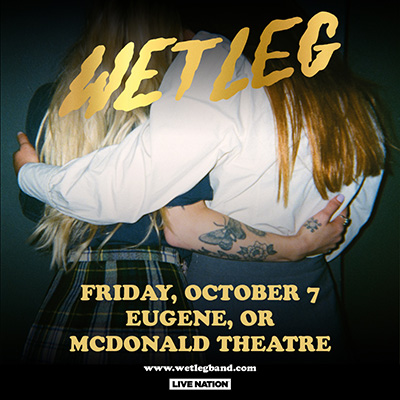 Produced by: Live Nation
Date: Friday, October 7, 2022
Support: TBA
Event type: All Ages, General Admission
Doors open at: 7 p.m.
Show starts at: 8 p.m.
Tickets: Advance tickets are all ages general admission and available Friday, August 12 at 10am for $22 online at TicketsWest.
Unless sold out, tickets will also be available at the McDonald Theatre Box Office on the day of the show for $25 beginning at 5:30 p.m. when the Box Office opens.
The general admission concert is open to everyone of all ages
All tickets subject to service charges and /or user fees.
As Wet Leg, the Isle of Wight's Rhian Teasdale and Hester Chambers bring a refreshing sense of fun to post-punk. On singles such as 2021's Mean Girls-quoting viral hit "Chaise Longue," they turn the style's deadpan irony on its head, pairing scrappy guitars and drums with dryly humorous lyrics. On their 2022 self-titled debut album, Wet Leg held onto that wit while expanding their musical horizons with a fuller, more melodic approach.
During the COVID-19 lockdowns in 2020, Teasdale and Chambers had more time to concentrate on Wet Leg. Along with writing and recording demos, they directed and edited the video for one of their songs, "Chaise Longue." After Wet Leg signed to Domino, the label issued "Chaise Longue" as the duo's debut single in June 2021. Thanks to its tongue-in-cheek post-punk and eye-catching video (part of which was filmed at Chambers' mother's house) it quickly became a viral success, racking up millions of streams and reaching number 27 on the Billboard Alternative Airplay chart in the U.S. Wet Leg followed it that September with "Wet Dream," a disco-tinged track also accompanied by cheeky visuals.
The pair capped off 2021 with a handful of live dates and the release of two more singles, "Too Late Now" and "Oh No." All of these songs appeared on Wet Leg's self-titled debut album. Largely produced by Dan Carey, Wet Leg came out in April 2022 and balanced the band's wry singles with more vulnerable and melodic songs.