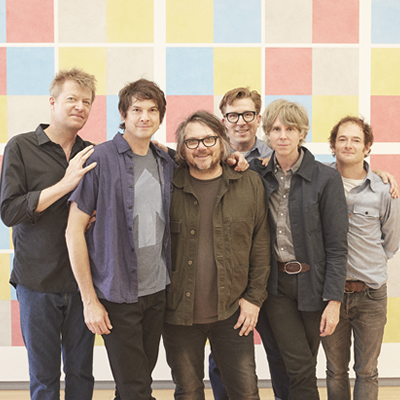 Produced by: Wilco
Support: Young Fresh Fellows
Date: Friday, October 8, 2021
Event type: General Admission, 21+ Ages Balcony, All Ages Floor
Doors open at: 6:30 p.m.
Show starts at: 7:30 p.m.
Tickets: Advance tickets are all ages general admission Floor and 21+ ages generald admission Balcony and available now for $51.50 online at TicketsWest.
Unless sold out, tickets will also be available at the McDonald Theatre Box Office on the day of the show for $51.50 beginning at 5:30 p.m when the Box Office opens.
The general admission concert is open to everyone 21 years of age and older in the balcony, and everyone of all ages on the floor. All tickets subject to service charges and /or user fees.
Throughout the past two-plus decades Wilco has won multiple Grammy Awards, released 11 studio albums, as well as a trio of albums with Billy Bragg penning music to lyrics by Woody Guthrie. They have founded their own record label (dBpm Records) and festival (Solid Sound). This year saw them curating Sky Blue Sky, a destination concert experience in Mexico, for the first time. The Chicago sextet continues to be regarded as a live powerhouse, as described by NPR "To see Wilco on stage is to hear the best of the best." The band's newest album, Ode To Joy, was released fall 2019.
Wilco return with Ode to Joy, out October 4th via dBpm Records. Ode to Joy comes three-plus years after the release of the "world-weary, wheezy – and wonderfully warm" (The Guardian) Schmilco, and encourages the act of finding joy in a dark political climate. The album presents a unique rhythm track and a minimalist instrumentation, with lyrics at once observant, hopeful, morbid, tolerant, and abstract. "Love is Everywhere (Beware)," the album's extrospective lead single, is an upbeat, guitar-driven track that explores the dual joy and threat of a community focused on love. Jeff Tweedy discusses it below.
"There MUST be more love than hate. Right?! I'm not always positive we can be so sure. In any case, I'm starting to feel like being confident in that equation isn't always the best motivation for me to be my best self – it can kind of let me off the hook a little bit when I think I should be striving to contribute more love outside of my comfortable sphere of family and friends.
So. . .  I guess the song is sort of a warning to myself that YES, Love IS EVERYWHERE, but also BEWARE! I can't let that feeling absolve me of my duty to create more."