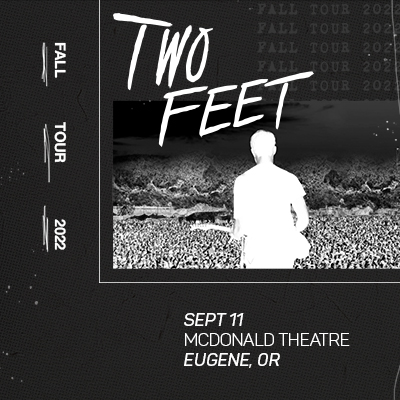 Produced by: Kesey Enterprises
Date: Sunday, September 11, 2022
Support: Brothel
Event type: All Ages, General Admission
Doors open at: 7 p.m.
Show starts at: 8 p.m.
Tickets: Advance tickets are all ages general admission and available Thursday, June 16 at 10am for $25 online at TicketsWest.
Unless sold out, tickets will also be available at the McDonald Theatre Box Office on the day of the show for $30 beginning at 5:30 p.m. when the Box Office opens.
The general admission concert is open to everyone of all ages
All tickets subject to service charges and /or user fees.
Two Feet is the soulful, atmospheric solo project of New York City-based singer/songwriter Bill Dess, who balances his breathy, yearning vocals with heavy bass grooves, guitar riffs, and moody electronic flourishes. The project first gained attention in 2016 when the track "Go Fuck Yourself" went viral, paving the way for EPs like 2017's Momentum and 2018's A 20 Something Fuck. Two Feet's first two albums, Pink and Max Marco Is Dead Right? appeared in quick succesion in 2020 and 2021.
Two Feet's full-length debut, Pink, arrived in 2020 and included the track "Maria." Taking on the alter ego of Max Marco, he returned in 2021 with Max Marco Is Dead Right?.