About The McDonald Theatre
When entering the McDonald Theatre building, one is immediately flooded with past memories of stage and screen performances because the 1925 building is loaded with historical memories and elements reflecting the days of yore. This (comfortable, familiar yet exciting) feeling is one that the Kesey Family, which owns and operates the theatre, has worked hard to maintain.
MCDONALD THEATRE COVID PROTOCOLS FOR PATRONS AND STAFF
All McDonald Theatre patrons, attendees and event staff will be required to show proof of FULL vaccination before entering the venue OR proof of a negative Covid test taken within 48 hours of the time of entry into the venue. Please note that you also must provide a legal ID to match the vaccine card or negative test.
Patrons can provide their actual paper vaccination record or negative test report or present a photograph of their documentation.
This policy is in addition to the current Statewide in-door mask mandate. These policies are subject to change. Any updates to shows will be available on our website, and ticket-holding patrons will be informed of any changes via their email used on TicketsWest.
Thank you for your ongoing support through these trying times.
Do I need to wear a mask?:
In following with guidelines mandated by the State of Oregon, mask wearing will be required for all individuals when inside the venue, regardless of vaccination status, while not actively eating or drinking. Masks will be available, if needed. Children under the age of five are welcome to wear a mask, but will not be required to wear one.
Where can I get a Covid test or vaccine?:
The following link provides information on where to take a test for COVID19: https://govstatus.egov.com/or-oha-covid-19-testing
Curative Testing at Hult Center
As of Monday, September 20 2021, the Hult Center will offer on-site testing for COVID-19 with CURATIVE. Appointments will be available online. Walk-up appointments are subject to availability. The COVID-19 test is free of cost, self-collected, and painless, helping you and your family stay healthy.
Hours of operations (Starting September 20, 2021): 12 pm – 6 pm, Monday – Saturday; 12 pm – 4 pm, Sunday. You can find more information on the Hult Center Health & Safety page.
The following link provides information on where to get vaccinated against COVID19: https://lanecounty.org/cms/one.aspx?pageId=17388003
Does my child, under the age of 12, need to show negative Covid test, as they are not yet eligible for the vaccine?:
Patrons under 12 are not subject to proof of vaccination or a COVID-19 test, but must be fully masked at all times except when actively eating or drinking.
Can I take an at home COVID test?
No. Only tests administered by a test provider, health care provider, laboratory or a pharmacy will be accepted. At home tests will not be accepted, nor will self-reported negative tests.
Can I bring a photo of my Vaccination card?
Yes. A photo of your valid vaccination card, showing that you are FULLY vaccinated, will be accepted.
What if it hasn't been two weeks since my second shot (or one shot for J&J)?:
If it has not been two weeks you will need to provide a negative COVID test for entry. A patron is considered fully vaccinated two weeks after the second dose of the two-dose mRNA vaccine (such as Moderna or Pfizer), or the single dose vaccine (such as Johnson & Johnson).
Learn first about pre-sales and concert announcements
Ticketing
Please check event info to determine if seating is General Admission or Reserved Seating. Almost all Concerts and Events are available online at TicketsWest, with the rare show door only:
McDonald Theatre Box Office (see hours of operation below)

If you purchase tickets from a third-party vendor, you do so at your own risk
The McDonald highly recommends researching ticket prices AND availability through TicketsWest before purchasing tickets through third-party or ticket re-seller sites. We cannot guarantee the validity of any order purchased from a third-party vendor, nor can we give information out to anyone other than the original purchaser regarding an order.  Barcodes, including for Print-at-Home tickets, can only be used once for entry.  And please beware of bogus Facebook event pages with third-party ticketing links.
McDonald Theatre Box Office
Currently, the McDonald Theatre Box Office opens at 5:30 pm for all concerts. The Box Office may open earlier for special events, such as film screenings. Please check event info for specific Box Office hours.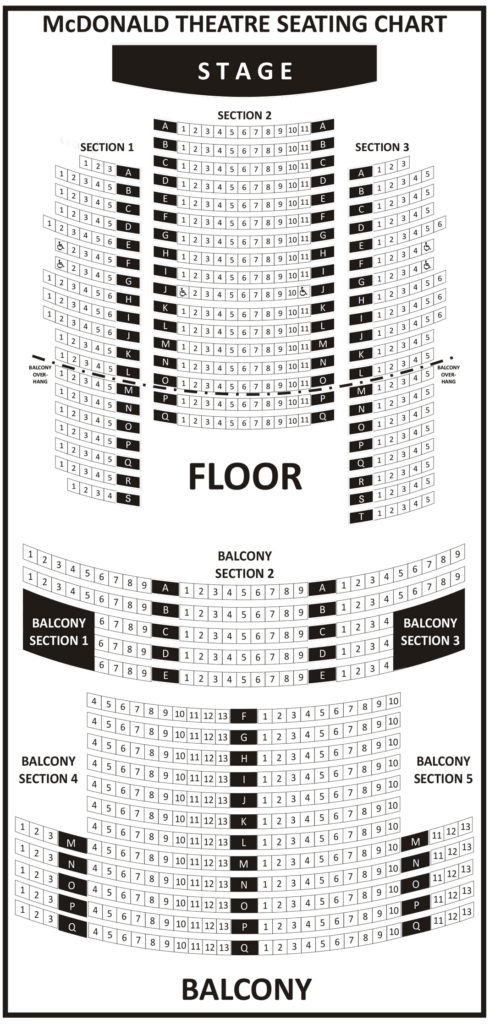 Ground Rules
All McDonald Theatre patrons, attendees and event staff will be required to show proof of FULL vaccination before entering the venue OR proof of a negative Covid test taken within 48 hours of the time of entry into the venue.
• All sales are final
• Guests 2 years and younger are welcome free of charge
• All carry-in items are subject to inspection
• No smoking except in designated areas outside. This includes e-cigarettes
• Clear bags only– no larger than 14" x 18" x 6"
The following are not permitted in the venue:
• Drugs
• Outside food and drinks
• Weapons of any kind
• Cameras, video or other recording devices
• Pets
• Laser pointers
• Skateboards or in-line skates
• Selfie sticks
• Monopods or Tripods
• Gum (opened / unopened packages or in use)
• Strollers or Wagons
The following activities are prohibited and will lead to eviction from the venue:
• Possession or use of illegal drugs
• Fighting or use of a weapon
• Public indecency / public urination
• Drinking alcohol under the legal age of 21
• Furnishing minors with alcohol
We reserve the right to deny entry or ask visitors to leave at any time.
Getting To the McDonald Theatre: Directions, Parking and Lodging
The McDonald Theatre is located in the heart of downtown Eugene, Oregon, at 1010 Willamette Street, right next to the local Lane Transit District Bus Station. Click here for a more detailed map of the location.
Diamond Parking maintains parking lots throughout Downtown Eugene. Other parking structures can also be found throughout downtown. Available parking on the street can be hard to come by during McDonald Theatre events.
Parking Structures
Most of the parking structures, especially the Overpark, allow parking in the evening for free.
• Overpark, on the corner of Oak and 10th, adjacent to the Downtown Athletic Club, provides 610 parking spaces. Saturday and Sunday and most evenings free.
• Parcade, between 7th and 8th on Willamette provides 38 spaces.
• Broadway Place Garage, located on Charnelton and Broadway, has 742 spaces available.
• Pearl Street Garage, located east of the Qwest phone building on 10th and Pearl.
• EPAC Garage, connected to the Hult Center offers evening parking free unless the Hult Center is featuring an event.
McDonald Theatre Amenities
• Snack Bar (open to all ages)
• Lounge – offering a full bar
• Sky Bar – Balcony Bar, offering limited drinks
• Fully Seated Balcony – open for most shows, please check show specifics
• Handicapped Accessible Seating options – on the floor as well as in the balcony
Hotels & Restaurants

There are many great places to stay and eat when traveling to Eugene! Here are few of the nearby restaurants and hotels, but please visit Travel Lane County for a more complete listing of all the lodging and dining options. Travel Lane County is an excellent resource for all your traveling needs.
Eugene Area Hotels near the McDonald Theatre

Additional Area Hotels
Eugene Area Restaurants near the McDonald Theatre

Seating
In order to enhance the exciting live concert atmosphere, the main floor of the McDonald Theatre is generally Standing Room Only for General Admission concerts to allow free flow of movement and dancing! For most of these GA shows, the balcony is fully seated and open to anyone 21 years of age or older, as it features a second bar. Please note that general admission balcony seating is available first come first served.
Click here for link to McDonald Theatre seating chart
For Reserved Seated events, the floor and balcony are fully seated, and tickets are associated with a particular seat, determined at the time of purchase. Coat check is often not available for these events.
Film screenings are generally General Admission Seated, where the floor and balcony are fully seated, but open to patrons on a firstcome, first seated basis.
Admission
Theatre doors generally open one hour prior to the announced time of each performance. The McDonald Theatre reserves the right to refuse admission or remove from the facility individuals that are disruptive to the performers or audience members.
Because most but not all concerts will feature an opening band, please plan on entering the Theatre soon after doors open. Times may be subject to change.
Accessibility
The main floor is accessible to patrons using wheelchairs. If you need special accommodations, please call (541) 345-4442.
Smoking
The McDonald Theatre is a non-smoking facility. Smoking is permitted directly outside of The Lounge.
McDonald Theatre ADA Information
The Cuthbert Amphitheater and the McDonald Theatre adhere to the U.S. Department of Justice ADA 2010 revised requirements regarding the sale of accessible seating. Patrons requiring special seating accommodations must request them at the time of purchase. All patrons including companions, caregivers and assistants must present a ticket for entry.
Tickets for unsold accessible and companion seating may be released for sale to individuals without disabilities when:
1. When all non-accessible tickets have been sold;
2. When all non-accessible tickets in a designated seating area have been sold and the tickets for accessible seating are being released in the same designated area; or
3. When all non-accessible tickets in a designated price category have been sold and the tickets for accessible seating are being released within the same designated price category.
The DOJ ADA requirements can be found here>>
McDonald Theatre History
The McDonald Theatre is a historic landmark of this community and is listed on the National Registry of Historic Places. Opening in 1925, it served as a community theatre for both stage and screen performances.
After the explosion of motion pictures, the theatre was converted into a movie house and operated as such until 2000.
The McDonald Theatre has played a significant role in the Kesey's family history. Spanning back to the 1950's, Mr. Kesey's company offered free admission to Saturday morning cartoons at the McDonald Theatre, while his young sons performed magic tricks at intermission. The theatre then went on to be a place where the following generation of Keseys enjoying many family movies together. The history continued in 2001, when Kesey Enterprises began producing concerts and community events in the venue. Finally in 2009, Kesey Enterprises purchased the historic building and today is proud to maintain it as a piece of positive revitalization in downtown Eugene.
The Theatre is host to a diverse spectrum of events, from mainstream reggae, to a private weddings, to high school proms, and local children's stage performances. Non-profit organizations are encouraged to take advantage of this beautifully maintained historic landmark for events, celebrations, lectures, and fundraisers.